Scanner-Camera-Shenaneganeramera
Experimental Large Format Portrait Photography




As seen at Festival x-24 2017, Frequency Festival 2017, and CALA Festival 2018.

For several years now I've been exploring "alternative photography" and image-making, both digitally and in the dark-room, using a variety of cameras both analog and digital - simple pinholes, vintage box-brownies, quick 'n' dirty cardboard boxes, paper negatives, custom software-solutions working from video, contact-printing, diy lenses, homemade chemicals based on caffeine, paracetamol, drain-cleaner and so-on ... and even helping make a camera modelled after a ... well, you'll see ... and of course, all-the-while continuing to develop my practice in both creative and documentary "conventional" dslr-based approaches to "shooting".

Philosophically-speaking, and coming from a musical-background, most of my creative image-making is somehow linked-to or about "time" - temporal distortions & displacements and a general exploration of time, how we relate to it, and how we navigate and represent the sometimes difficult-to-grasp temporal realm ... but generally aiming beyond simple long-exposure techniques. In effect, I've lead myself down the dual rabbit-holes of "SlitScan" and simultaneously diy-photography.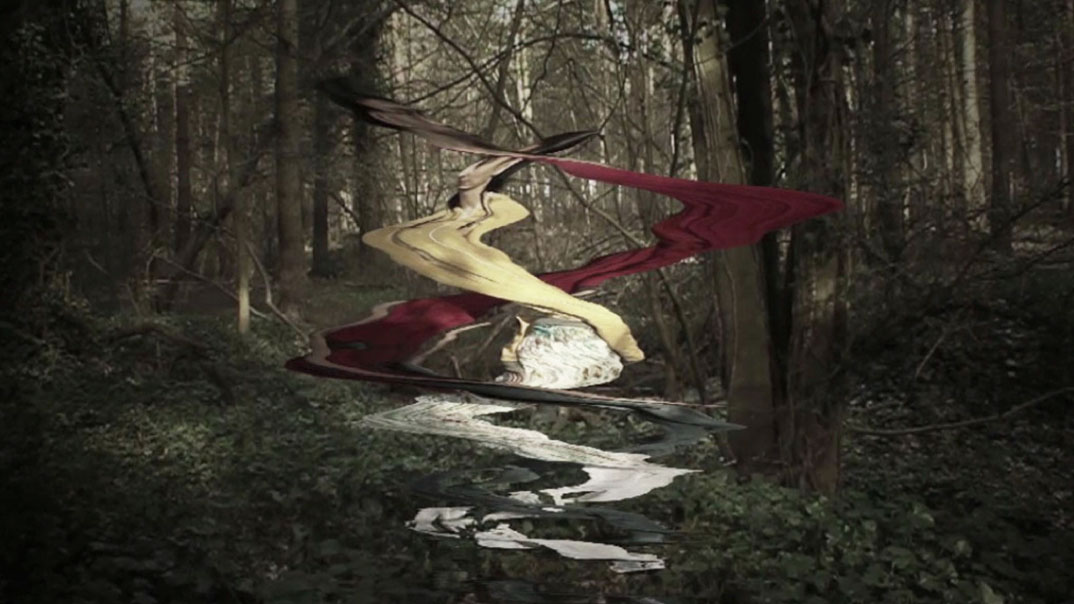 Still-frame from "Woodland Encounters" video-work, created via a virtual SlitScan technique where regular video is decomposed and re-ordered to produce an animated SlitScan effect illustrating as much the passage of time as movement through space.

My SlitScan video works have been shown quite widely now, but they tend to rely on a rather intensive amount of production, being based on a software decomposition-rework-recomposition process, coded from scratch (dissolution, coagulation, Baphomet and all that, but that's a different story) ... and what has been missing from this production process, ironically considering it's all about time, has been a measure of spontaneity and instantaneousness ...

Hence what follows ...

Normally, for a SlitScan video work, I'm mashing thousands of video-frames together to create each frame of an output, but there's a much simpler approach when shooting stills ... and rather than rely on some super-duper expensive commercial scanning-back camera, I've created a large-format box camera using cheap lenses housed in a bunch of floor tiles, with an obsolete document scanner as image source. What I've made is, in-effect : the world's least convenient digital camera, being a cube 50cm per side, extendable out to almost a metre in length, and powered by a windows XP computer which by all rights should have met its maker many years ago ...



Grey telescopic box-camera in-situ as we "shoot" : LED lighting on the front-side (along with a couple of light-boxes, out of shot) help illuminate the subject.

Not one to shy-away from glitches, mistakes, and the charms of low-tech regimes, I've been somewhat delighted to find that using a rather naive, un-coated lens and a scanner-sensor which doesn't care if it looks at infrared, the visible-spectrum, or indeed ultraviolet, gives-rise to results which on the one-hand are entirely digitally captured, and on the other hand "suffer" all the quirks of old-school large format cameras when it comes to spectral sensitivity ..... so the results themselves (before the temporal-nature of the actual shooting) kind of traverse time - a digital image with respectable resolution (even by current standards) with all the badness of infrared and ultraviolet bleed and all-manner of lo-fi dust and scratches : whilst I'm certainly not going to claim them as "timeless", they do have some peculiar hybrid appeal being based on such a basic approach to optics - hell the box isn't even black on the inside, there's no adjustable aperture, and focus is acheived using a tape-measure and a little app to spit-out numbers based on formulae uncovered by Newton in the 17th Century .......




Anyways - enough waffle : here's some portrait shots I've created recently as part of an artist-led open-session with Lincoln-based arts-collaborative General Practice (click the thumbnails to see a larger view) - life-size prints will be on display at gP from July 6th.


So far, so conventional ...

All of the above images took just over a minute to capture as the scanner's sensor slowly traverses its bed reading line-upon-line of pixels. The subjects did a grand job of sitting nicely in our joint mini-durational performances as we waited for the aging hardware to do its thing and deposit something approaching 35 million pixels on to crappy-old spinning-rust storage, prior to cropping and post-processing to bring-out a bit of contrast ... These were shot with the scanner set to 600dpi - a much quicker scan is used for previews at a significantly lower resolution, and whilst this particular scanner can reach 1200dpi, 600 was chosen as a good balance between duration of shot and output resolution.

Here's some documentary photos of people having their photos taken / maken ... shot on a "proper" camera and a phone, just to demonstrate the bland ubiquity of inexpensive, high-quality image-making devices (what a time to be alive, etc etc ...) :



But that's all just a bit boring, right ?

So .... to the fun-part where instead of sitting still, we get to explore time a little more playfully - the same lighting, the same equipment, and the same peculiar moment as the experience of 60 seconds warps and bends, sometimes feeling like nothing, sometimes feeling like an age. Beyond the regular formalities of shooting, I'm standing with the subject not opposite, and I'm not thrusting a phallic lens at them and intruding on their personal space - it's a collaborative effort where we work together to explore and understand the medium, rather than to simply "make love to the lens, baby" ...



You might say these distorted images represent "more" or "less" of the sitter than the "regular" images, but I feel it is worth mentioning that even the more conventional "shots" are still not what they might appear to be on the surface :: there ain't no "kodak-moment" here - these images represent the passage of time much more-so than a conventional full-frame shuttered approach to photography ........ make of that what you will .......

So, that's it for the "conventional" and "unconventional" images from this project so far ... All-in the scanner-camera took a couple of months of part-time tinkering and experimentation to reach a stage where it is now a fairly competent image-making device, with a cheerful and open approach to the sitting & making process ...

What follows is a selection of the images created during the development process for this particular riff on the technique - if you've got an old document scanner kicking-about and fancy giving this style of image-creation a go, then head-over to makezine for an outline tutorial and basic list of ingredients.



Whilst the scanner-approach generally only really enables monochromatic images to be made, the above colour images were created by taking multiple exposures through different coloured filters, and then compositing them "in post" to create the resultant rgb representations - but due to the somewhat wonky approach to colour-science involved, they (at present at least) have a tendency to come-out ... rather ... "charmingly" with respect to their colour representations ;)
© 2017 Daz Disley